👑 Administrator 👑
Staff member
Administrator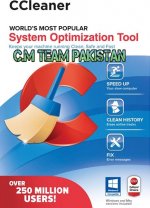 Multilingual, registered regular and portable versions in one installer!

CCleaner
is an application for system optimization and user security. By downloading the utility from diakov.net, you can remove unused and temporary files, make Windows run faster and free up space on your hard drives.
Deletes browsing history, cookies, temporary files and download history in all popular browsers - Internet Explorer, Opera, Firefox, Google Chrome, Safari.
Removing traces of work in Windows
Clipboard, temporary files and Windows history files, the list of recent documents (in the Start menu), search history, recycle bin files, memory dumps, obsolete Prefetch data in Windows XP.
Cleaning data from other programs
CCleaner also cleans temporary files and lists of recently opened files from other programs, such as: Media Player, Safari, eMule, Kazaa, Google Toolbar, Netscape, MS Office, Nero, Adobe Acrobat, WinRAR, WinAce, WinZip and others.. Cleaning and optimizing the
registry
The registry cleaner built into the program allows you to diagnose by identifying problems and identifying unused entries. Removes unused file extensions, ActiveX controls, ClassID, ProgID, shared DLLs, references to deleted fonts, help files, icons, invalid shortcuts, and more.
Using CCleaner is System Safe
This program is designed to be easy and safe to use. CCleaner contains several levels of verification, so you can be absolutely sure that you will not delete any information necessary for the system to work.
Another useful feature is the complete erasing of files
. CCleaner also has the function of completely deleting files from a disk with several overwriting cycles, which does not allow them to be restored in any way.
In addition to cleaning Windows, CCleaner can also remove temporary and other unnecessary files from many other programs, including: Firefox, Opera, Media Player, eMule, Kazaa, Google Toolbar, Netscape, Office XP, Nero, Adobe Acrobat, WinRAR, WinAce, WinZip et al...
CCleaner was made to be safe to use. It has many levels of security checks to make sure nothing useful or useful is removed. For very suspicious and cautious users, a backup system is also provided.
The CCEnhancer utility acts as a temporary add-on that allows you to add 500 new applications to the list of monitored software.
RePack's features:
Type:
installation | unpacking the portable version.
Languages:
ML.
Cut :
CCUpdate.exe.
Additionally:
add-on CCEnhancer 4.5.7 extends functionality, automatic choice of bit depth OS x64 | x86, optionally added the ability to create additional shortcuts to the Start menu for working with CCleaner, using additional command line switches.
Command line switches:
• Silently install CCleaner Business Edition: /S /BUS
• Silently unzip CCleaner Business Edition: /S / BUSPORT
• Silently install CCleaner Professional Edition: /S /PRO
• Silently extract CCleaner Professional Edition: /S /PROPORT
• Silently install CCleaner Technician Edition : /S /TECH
• Silent unpacking of CCleaner Technician Edition: /S /TECHPORT
• It is also possible to select a directory for installation: After all keys, add /D=%path% Example: install_file.exe /S / PRO /D=C:\ CCleaner
Changes in version:
Cleanup improvements
- Added cleanup of bookmark backups in Edge and Firefox
- Expanded Google Chrome cleanup rule Temporary file metrics. It now includes installation metrics.
- The rule Windows Subsystem Temporary Files has been renamed to Network Data Usage. The new name better reflects the purpose of the rule - to remove historical statistics about your network usage.
OS:
Windows 11 /10 / 8.1 / 8 / 7 / Vista x86|x64

Download CCleaner 6.00.9727 Business | Professional | Technician Edition (Key + hosts) (30.24 MB):
​






Download CCleaner 6.00.9727 Business | Professional | Technician Edition (Patch) (29.78 MB):​

​